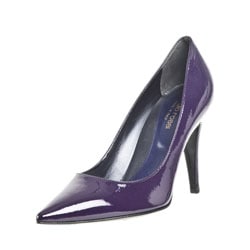 Like most average working Americans, I
occasionally
go out for a few minutes to pick up something for lunch. Today my craving was for the
Chargrilled
Chicken Garden Salad from Chick-
Fil
-A.
Nom
nom
nom
. Well, apparently another craving hit me as soon as I got in my car. A craving I could no longer ignore, a craving that I
inevitably
needed NEEDED to give into: a craving for shoes. Glorious PURPLE shoes. So, I'll admit, as much as I would love to spend upwards of $200 on every pair of shoes I want, I just can't. I don't have an overflowing bank account. But I do have a bank account that lets me slap down $80 for 3 pairs of shoes at Shoe Carnival. I know it's not the classiest of places, but I have surprisingly good luck there. And until my salary jumps to six figures, I just cannot justify plunking down the mega big bucks for shoes, clothing and accessories. I happen to like my
Maybeline
mascara from Target, my perfectly fitting black trousers from Banana Republic Outlet, and my silly
dangly
necklaces from Kohl's. I do tacky well. Tacky works for me. Which is why, my friends, the purple shoes could no longer go
unpurchased
. I saw them about a week ago when I made another Shoe Carnival steal-of-a-purchase for some black & white pumps and all of their 4 1/2 platform inches of glory.
Similar to this slutty like thing pictured left. I'm fairly certain I was a stripper in a past life. Who else is 5'8'' and lusts after 4 1/2 inch platform stilettos to wear to her 9-5 office job? Something just doesn't add up. I must have been a stripper. Either way, I'm rather ecstatic that I now own purple shoes (along with a caramel pair and shiny round-toe black pair) to add to my collection.
Unfortunately
, my shoe rack is already spilling over... I hope Husband doesn't demand I throw out 3 pairs to make room for my new 3 pairs. I can't do it, Husband. I just can't. Now, what the hell I am going to do with purple pumps is beyond me, but you better believe I will be trying to make some kind of outfit that I can wear to the office tomorrow that will allow me to shamelessly parade around in my new favorite foot ornaments. I almost want to hug them, I'm so excited about them. Oh how easily I am pleased...